To view a copy of 2018 / 2019 Curriculum Overview, please click
To see a copy of our Autumn Term spellings for 2018/2019, please click here.
Year 6 Leavers were treated to a party on Thursday this week. Sam and her wonderful kitchen staff provided them all with a buffet of pizza slices, garlic bread and cream cakes!!! It was delicious. Mr George arranged some great music, disco lights and a smoke machine. The children enjoyed dancing, playing and laughing with their friends - they have worked incredibly hard this year and throughout their time at Laira Green so it was well-deserved.
Click here for photos from our Year 6 party!
In Science, Birch has been learning all about 'Living Things and Their Habitats'. This has included looking at the classification system of animals and plants. We learnt that Carl Linnaeus developed a system for classifying animals according to their predominant characteristics. For example, mammals give birth to live young; suckle their young; have hair or fur and are warm-blooded. An example of a mammal would be a human!
The children then discovered how the platypus had caused scientists a lot of arguments over its classification as it has characteristics from more than one group.
Following on from that, the children had fun designing their own animal, labelling it with its characteristics for others to decide which classification it fitted. Click here to view our gallery - can you decide where each creature belongs?
Well, we have today had our final Forest School for the year … and the final ever LG Forest School for our Year 6s … and what glorious weather accompanied us! The children used their wooden frames from last week as the base from which to create a further structure; shelters were constructed; a swing was erected and the main fire lit. Having boiled the kettle, some children made up the hot chocolates whilst others toasted marshmallows for smores. Click here to see our rogues' gallery!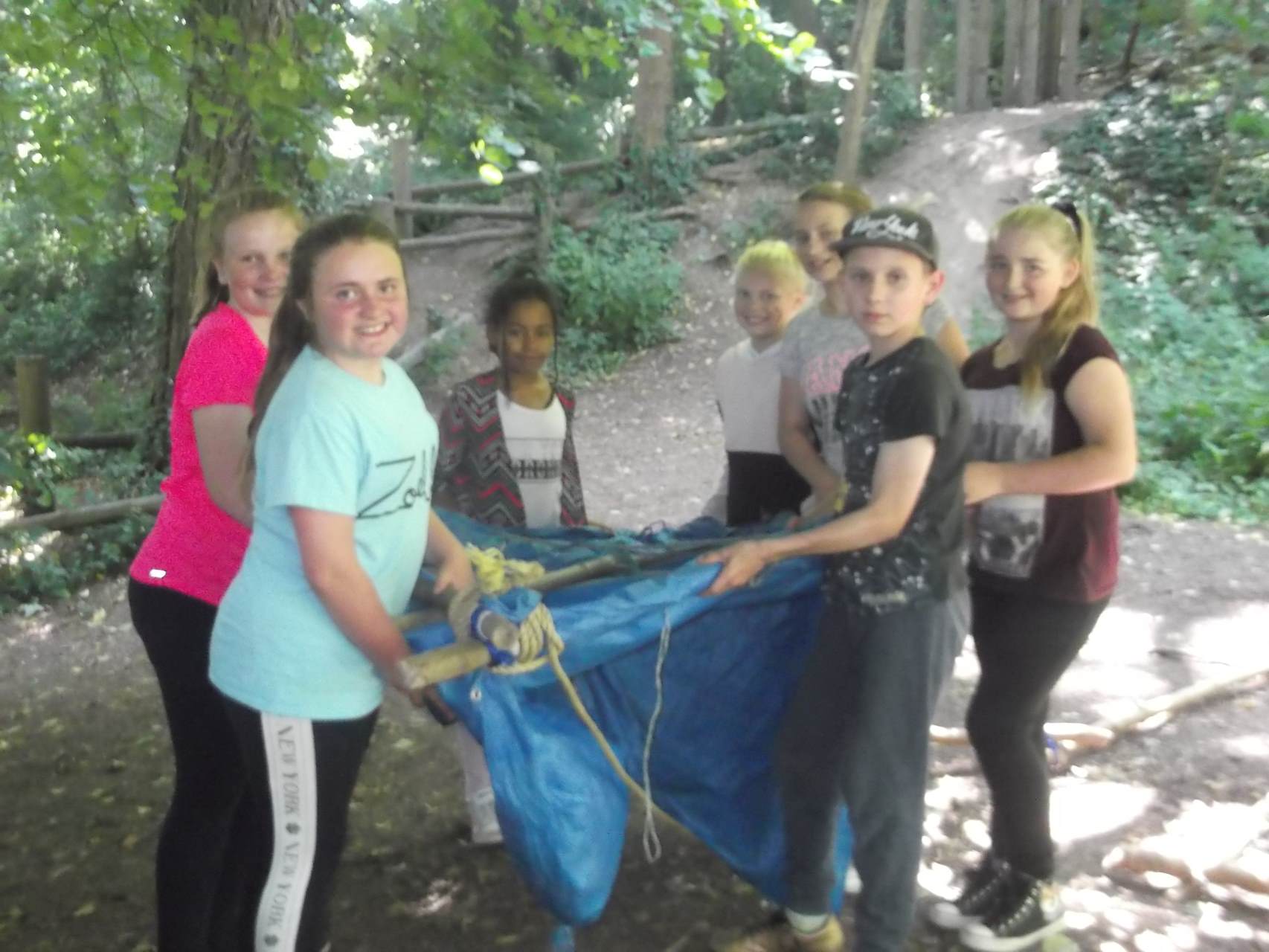 In view of it being Armed Forces Week, the Year 6s visited the Naval Heritage Museum which Ruby thought was inspirational as it made her consider a career in the navy; Reece especially liked learning about how ships can be identified by their figureheads and Levi found it fascinating to learn that in the old days, sailors used salt to preserve food on board ships. All of the children seemed to enjoy dressing up in the various forces uniforms; the hats were especially popular! Click here to view our gallery of pictures.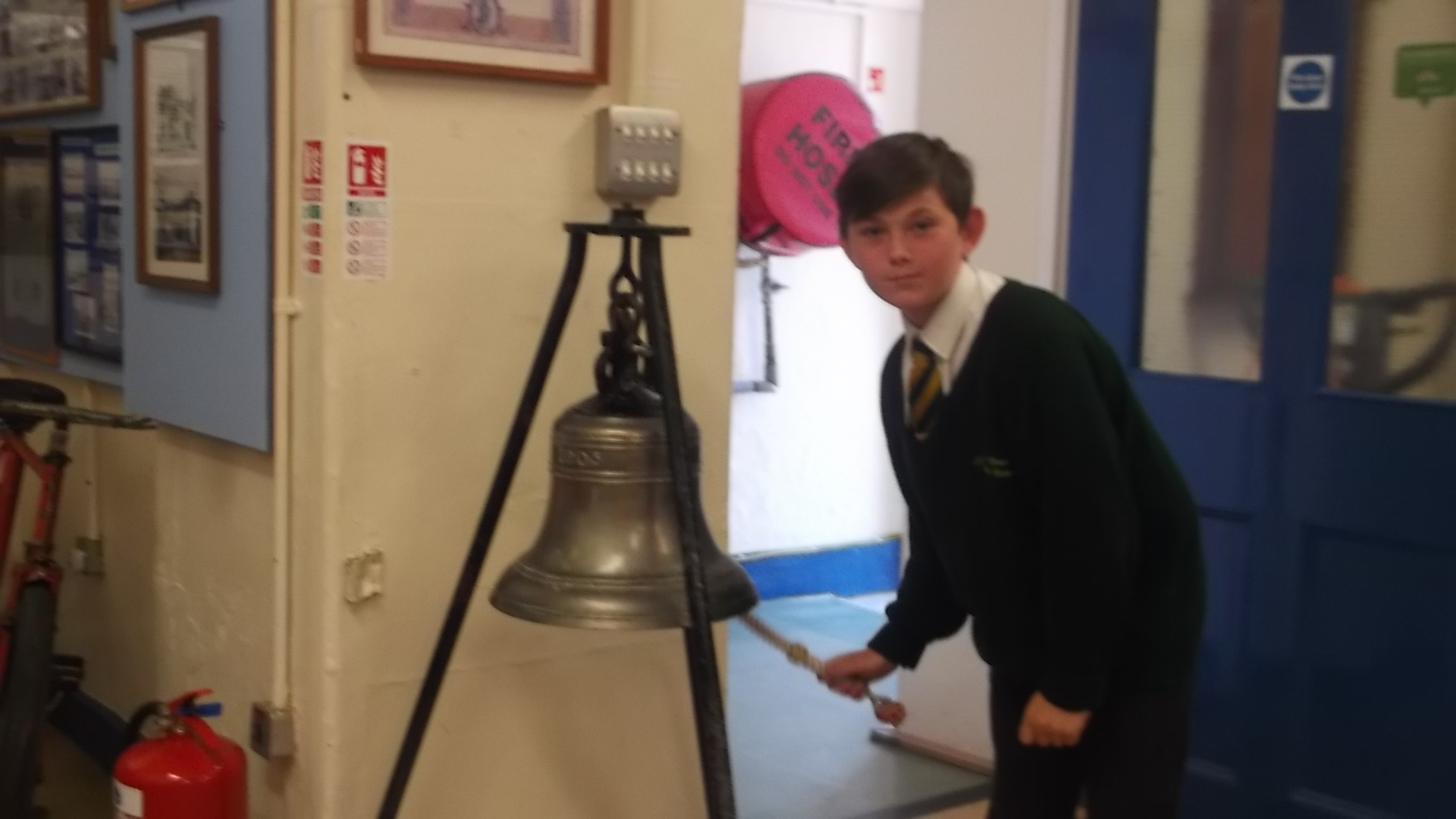 This Wednesday, 20th June, was Birch Class's second Forest Schools session and thankfully, the weather was again kind to us. Whilst it rained a little on the way there, our session was completed without a complete downpour! This week the children used the tree trunks from their last session and some Team Ant behaviours to fasten them into a square. They will decide how to transform their square into a useful object through the addition of more materials. Suggestions so far have included a raft and a table … watch this space! Click here for week 2 gallery pictures.
We have enjoyed Healthy Eating Week in Birch class. We began by using the Chromebooks to research fruit and vegetables to learn why it is said to be healthy to 'eat a rainbow'. Children quickly discovered that different fruit and vegetables contain different nutrients and our bodies therefore need a range of fruits and vegetables in order to have everything we need to stay healthy.
In DT, the children worked in groups to design their own rainbow smoothies and put their culinary skills to use by making a prototype. The children tasted their own and their peer groups' and compared notes.
In English, they wrote an explanation text of their findings about eating a rainbow and an instruction text - being the recipe for their smoothie.
In Maths, they used the receipt from the fruit and vegetable purchase to cost out the price of their smoothie. Most agreed it was a very affordable and extremely tasty way of ingesting vitamins and minerals!
Click here to view our pictures. Click here to view some examples of our work.
To consolidate both our Healthy Eating Week learning and our Junior Life Skills visit, the children played some educational board games.
A huge well done to Laira Green's first Junior Ten Tors team! The team included Ruby-Mae, Ava, Molly-May, Reece & Xander from Birch Class along with Eboni, Jaden and Sonny from Cherry Class. Click here to view our JTT page.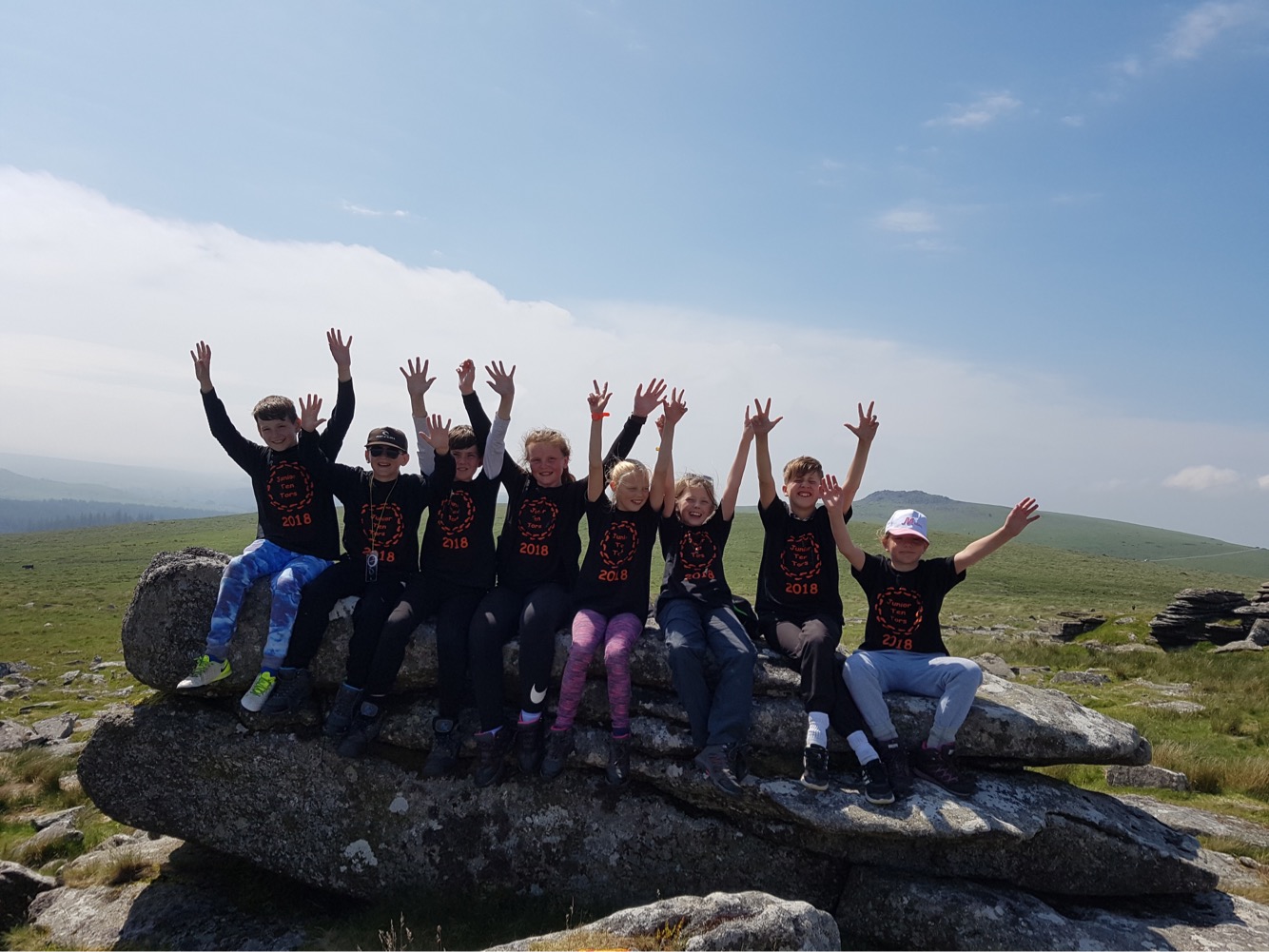 Our Year 5/6 children had an exciting week last week, full of interesting activities. On Tuesday, the Year 6s attended the Junior Life Skills event at Bull Point to learn real life skills. These included sea safety, resuscitation, using public transport safely, railway safety, how to avoid electricity hazards and staying safe at home. The chip pan fire demonstration was a huge hit with children amazed at the ferocity and size of the fire caused by throwing water on to the pan. Click here to view more pictures of the event.
On Wednesday, Birch Class had its first Forest School of the year and we were blessed by good weather. The children were fabulous team ants, working together to erect shelters and to chop down saplings (with Plymouth City Council's permission). The young trunks will be used at future Forest Schools to create a structure - watch this space! For photos of week 1, click here.
On Thursday, Year 5/6 put what they had learnt about public transport into action by boarding a bus into the City Centre to visit the WWII museum in the House of Fraser building. The exhibit told the story of Plymouth in the Blitz and explained how our city centre landscape has changed as a result. Click here to view our photos. Click here to view some examples of the beautiful writing that emerged from the visit.
Welcome back for our final term before summer!
Please click here for this term's Year 5/6 spelling list.
Well, here we are - at the end of another half term. It's difficult to see how time can fly by so quickly until you stop to consider everything we've fitted in!

Most of our Year 5s went off to Nethercott Farm in April and had a wonderful time. There are lots of lovely pictures in our Nethercott Farm Gallery.

This gave our hard-working Year 6s an opportunity to work even harder to be best prepared for their SATs! The Year 6s have been absolutely amazing - throwing themselves into every task that has been set for them and their Tough Tortoise, Busy Bee attitude has enabled them to approach their SATs feeling prepared and relatively relaxed.

As a reward for their efforts, we abandoned school and headed for the park in order to live in the moment, appreciate our surroundings and to socialise with friends. It also provided the opportunity for run-offs for Sports Day.

KS2 Sports Day was a huge success and we were lucky with the weather. Congratulations to Scott, the winning team this year. Click here for some of the photos!

Our School Council Representatives have also been busy attending Plymouth Youth Council. Well done Ruby and Levi. [photos and more info to be added]

As part of our British Values education, we were treated to an assembly and workshop revolving around the British Value of Democracy. This included some debating and will form the part of some work next term. Click here to view the photos.

Next term is going to be a busy one with several exciting, educational trips organised along with engaging lessons and, of course, our Year 6 Leavers' Assembly. We may need to cancel the summer holidays in order to fit it all in!
Please click here to view the Year 5/6 Spellings for the Summer 1 Term 2017/2018.
I am proud to announce that our latest 'Artist of the Month' award in Birch has gone to Simone Abrokwah. Well done, Simone! Simone showed an keen observational eye in producing a very detailed sketch of a beetle.
The BBC's 500 Word competition is a national story-writing competition for 5 - 13 year-olds. This year, children at Laira Green took part.
I was thrilled over the Easter break to receive an email from 500 Words to advise me that one of the children from our school has been successful in getting through to the next round - a super achievement.
Well done, Lark! As well as her certificate, we presented Lark with a writing journal and pens to help her to keep expressing her creativity!
Click here to read Lark's story
At Laira Green, we encourage our children to problem solve through reasoning and to explain that reasoning to deepen their understanding and promote lifelong learning. This example of Maths reasoning by Xander is a great example. Well done, Xander!
We've had a really engaging week, being 'Bright Sparks' in Birch and Cherry classes. Our Year 6s spent a day at City College using batteries, magnets and wire which they had to carefully shape to make a self-rotating creation. They also wired up a 60W light bulb ceiling fitting to a light switch and witnessed lots of light demonstrations that proved white light is made up of red, green and blue light; that light travels in straight lines and can be reflected and refracted. Click here to see photos of our scientists in action!
The Year 5s went to forest school and carried out some science investigations then completed science related art in the classroom.
In Birch class, we were lucky enough to be loaned a one-eyed, albino hedgehog for the week and have used the internet to research hedgehog facts from which we wrote information texts. Having looked at how well common hedgehogs are adapted for life in their usual environment, we considered how vulnerable our hedgehog would be in the wild. Click here to view our hedgehog handling.
We attempted to create batteries using citrus fruit, apples and potatoes to power a small bulb but all of our attempts failed! Typical of the true scientists and tough tortoises that they are, the children never gave up but continued making changes to their equipment and retesting. We wondered if part of the problem might have been a lack of copper content in our 2p coins so Charodon suggested that maybe using more than one coin would help - what a good idea! Photo link
As a final challenge, the whole school took part in an 'eggciting' whereby they had to design a contraption that would protect their egg when dropped from a height. We worked in mixed age groups with some of Birch joining Butterflies and some of Butterflies joining Birch.
Click here to see the pictures of 'Birchiflies' children.
Fairtrade Fortnight saw us engaging in various learning opportunities to find out more about Fairtrade and what we can do to help its cause.
We collected Fairtrade packaging over the two weeks and managed to collect 45 items - that's 45 times we've supported producers in developing countries! We also bought pancakes after school with a choice of Fairtrade sugar with lemon or Fairtrade banana fillings.
In Maths, we completed a Fairtrade Fractions sheet - testing our fraction skills to learn new Fairtrade facts.
We watched a video about a coffee bean farmer called Samuel and completed a reading and writing activity to explain how Fairtrade supports farmers like Samuel and how we too can support them.
Click here to see evidence of our activities.
Our school was fortunate enough to be visited by 85 KS2 French students on Tuesday. Each KS2 class contributed to an assembly to show off our French skills and to enable our French guests to see an English assembly - they don't have them in French schools!
Birch's contribution was by way of a piece of drama which demonstrated our learning of greetings, food and drink names, animal names and the difference between masculine and feminine nouns.
Our 6 actors: Ava, Maisy, Xander, Billy, Ruby & Jude did an amazing job, speaking clearly, loudly and fluently. They understood the script well as they had previously used it in a French lesson to complete a translation exercise.
After the assembly, Birch class was joined by 7 French pupils and their teacher. All of the children worked together to produce a piece of writing, to solve some Maths problems and to work on a science investigation. They also had to use dictionaries, picture drawing and actions to help decide which halves of French sentences went with which half of the English sentences to provide complete facts about our visiting hedgehog.
The French teacher was very impressed with how our children behaved and were proactive in entering into conversation with the French students, making them feel at home. Well done Birch - you did yourselves proud yet again!
Click here to see some of our photos from the day.
Our Year 5s had a special treat today - they went to Lipson Cooperative Academy to listen to a visiting author, Kathryn White. As a class, we had read one of Kathryn's books, 'Beast Quest' so it was exciting to meet the author in the flesh! The children were eager to learn what had inspired Kathryn to become an author, where her inspiration for characters and plots came from and what Growth Mindset aspects she'd had to embrace to overcome challenges along the way.
Whilst our Year 5s were out, our Year 6s were subjected to a prank relating to our recent Snow Days ... Mrs Kennedy appeared in our classroom brandishing a letter supposedly from Plymouth City Council advising us that the Year 6s would have to come to school on Saturdays and Sundays to catch up their missing learning. As you can imagine, this caused outrage so we decided to undertake a persuasive letter writing exercise to persuade the council that this was not a good idea.
The letters were amazing but the star letter has to be Ruby-Mae's - well done, Ruby-Mae!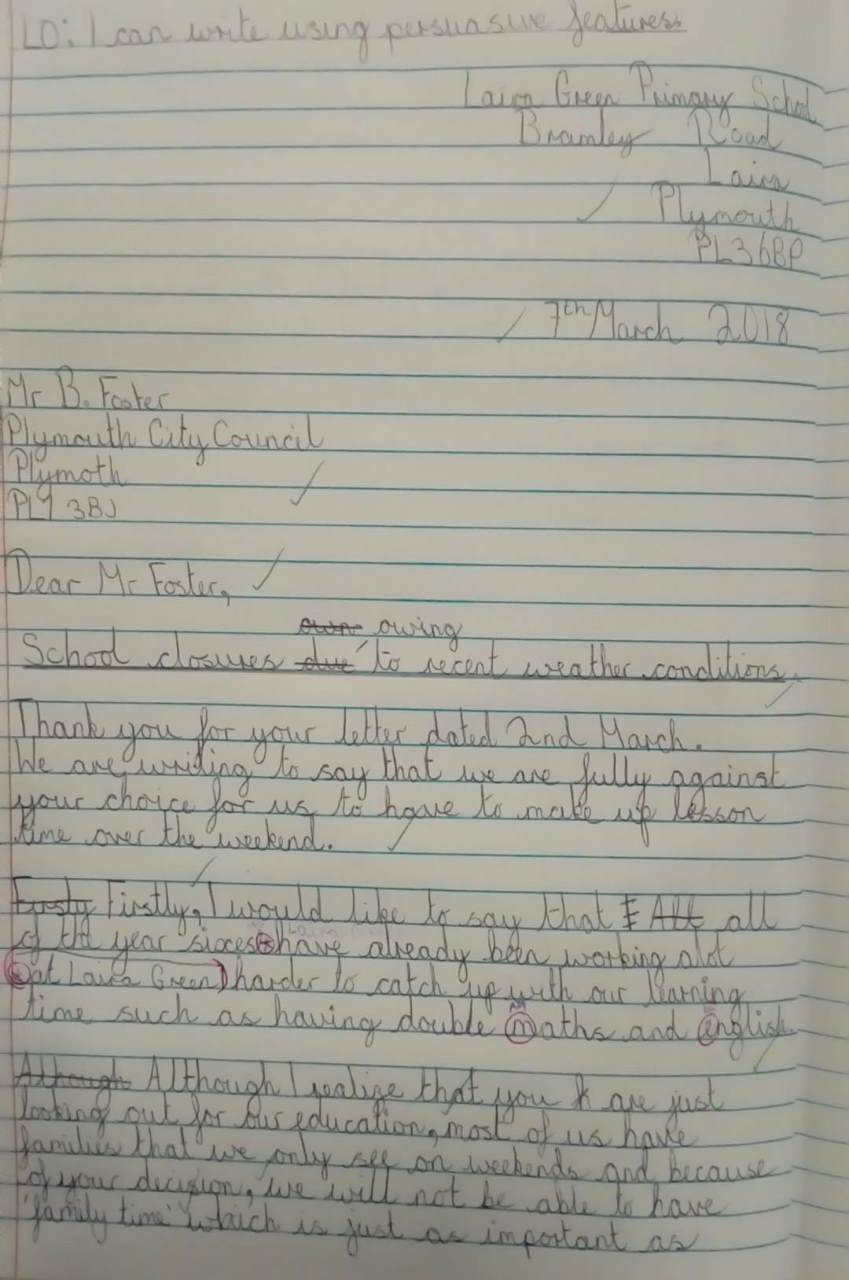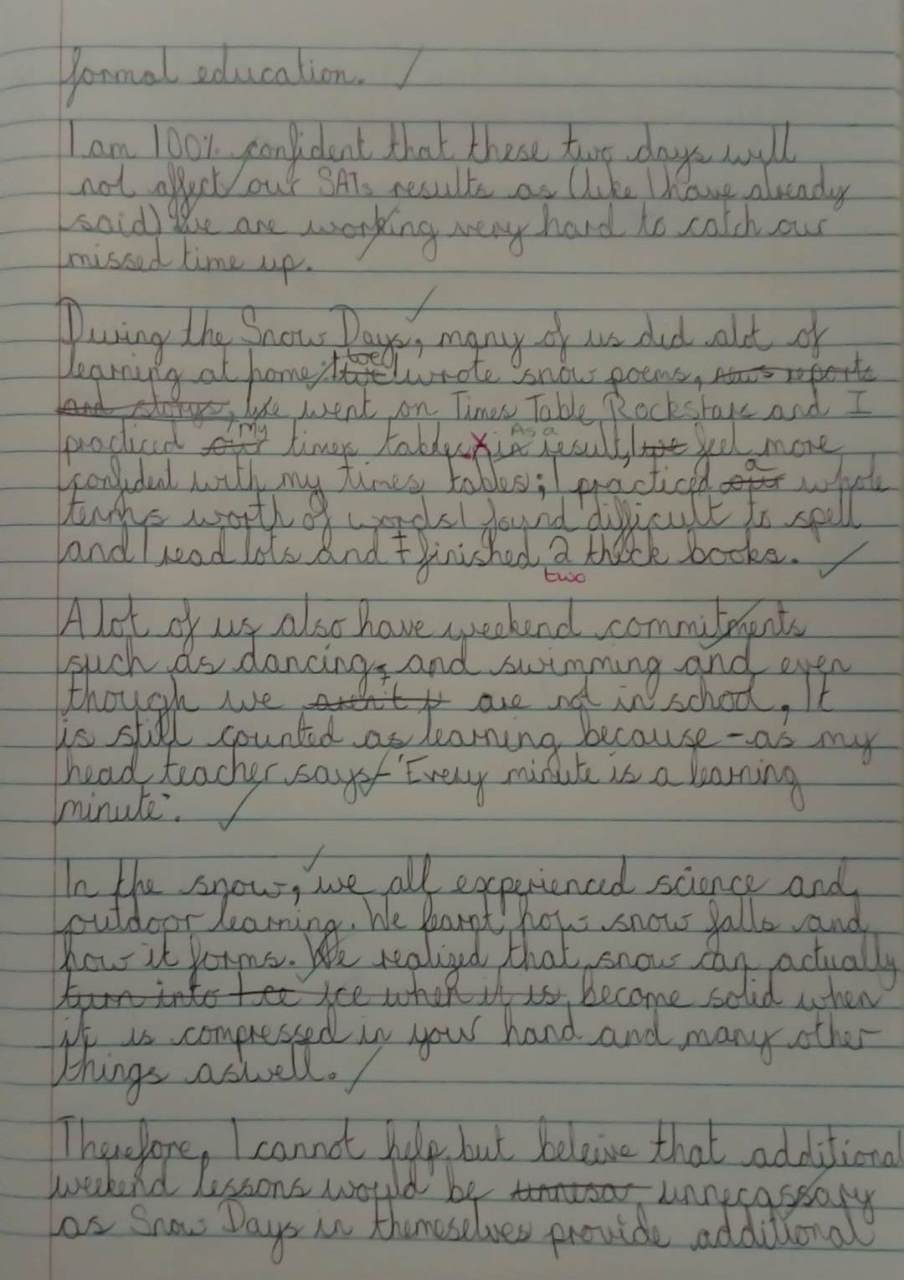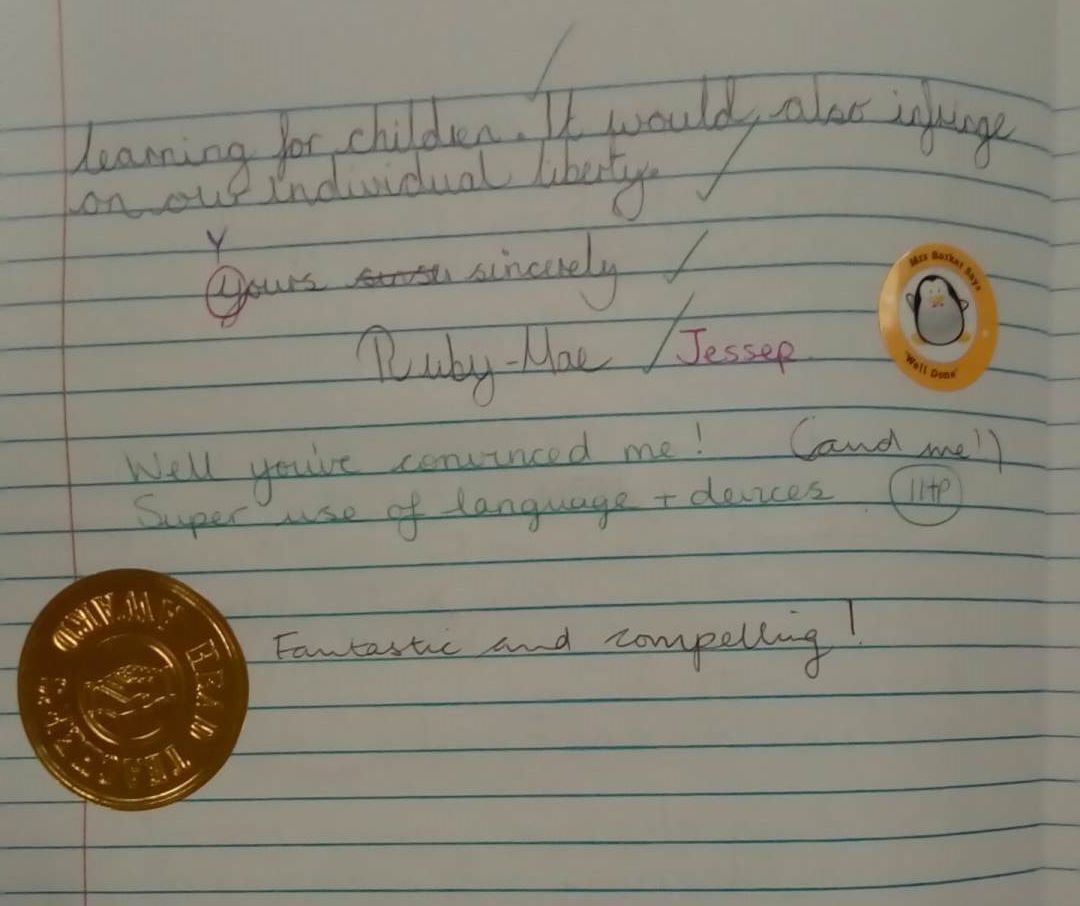 Junior Ten Tors (JTT) is happening at Laira Green! We are looking forward to being part of this event this year. James Blake, our Forest Schools Leader and qualified Hill and Moorland Walk Leader, is coordinating the event which will include practice sessions for our selected JTT team, taking part in the JTT event - which includes an overnight camp-out on the moors, and a taster session for all Year 6 children.
We completed the taster session today and were blessed with wonderful weather conditions. Armed with maps, compasses and a copy of the planned route, the children practised their orienteering skills.
Some children began with trepidation but, by the time we were half way through, everyone had thrown themselves whole-heartedly into the walk and we had a marvellous time. We walked about 5km and experienced a good mixture of steep climbs and descents as well as some gentle flat walking. Click here to view our photos.
To support the children's Science work on Light this week, they each dissected a pig's eyeball in order to better understand how our eyes work to enable us to see. The children were amazed at just how tough an eyeball is - it took a lot of effort to cut into. They were able to extract the lens and learnt that it is a hard sphere full of fibrous material. They explored the eyeballs to locate the optic nerve, retina, lens and cornea. I was really proud of their scientific, non-squeamish approach to the task. They are a marvellous class of children! If you feel brave enough to view our dissection pictures, click here.
Mrs Taylor, our Art Subject Leader, has introduced a new monthly award: Artist of the Month. It is with great delight that I am able to announce that February's winner from Birch class is Mya. I chose Mya because she demonstrates good observational skills, works diligently to achieve the best results she can and has a keen eye for composition. All of the artists' work is on display outside the Foundation classrooms.
STUCK FOR A STORY? ... Read our latest batch of book reviews. Click

here

.
This term we've enjoyed reading and learning based on 'The Highwayman' by Alfred Noyes. Are you familiar with the poem? Do you know how it all turned out in the end? If not, read our newspaper reports to learn all of the latest action and juicy tidbits! ... Click here
This Friday, we the school held a Challenge Afternoon to promote the use of our Growth Mindset Values. In Birch, children worked in teams to design and create a contraption to house an egg so that it could survive a fall from a first floor window. The children rose to the occasion splendidly and had a fun time Click here to view the photos.
We've had a couple of home projects brought in this week.
Dylan and Leon have clearly worked very hard to create these Mayan dwellings.
Well done boys!
Happy New Year! And welcome back. It was lovely to see the Year 5/6s throwing themselves enthusiastically back into their learning at the start of term. Click here to see what exciting learning they will be absorbed in this spring.
Click here to view our spellings list for spring.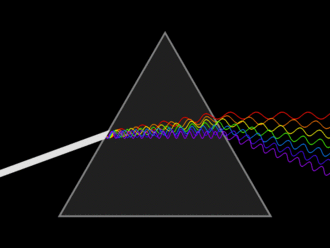 This week we have been exploring refraction as part of this term's Science topic - Light. The children have learnt the meanings of the following scientific words: refraction, wave length, light spectrum, white light and light speed which they then used in their own explanation text about how a rainbow is formed. Do you know how a rainbow is formed? If not, ask your child for an explanation - it's an amazing phenomenon!
Do you sometimes have trouble deciding which book to read? With so many to choose from, it can be a tricky decision.
To help our peers to choose a book that might appeal to them, we have each completed a book review of one of the books we read over the Christmas break.
If you need some help in deciding on your next book or find reading a chore rather than a pleasure, click here to read our reviews ... our passion for reading might help you to discover yours!
Click here to view this year's Curriculum Overview.
With excitement mounting as we speed towards Christmas, Birch Class has been writing Christmas poems. We began by reading 'What is Red?' by Mary O'Neill and analysed its structure and language. The children then thought-showered words that meant Christmas to them before innovating the original poem to create 'What is Christmas?' You can read them here.
As part of our Victorian History Topic, we have been learning all about Victorian Christmas traditions.
We have used compasses to create semi-circles from card which we formed into cone, adding half of a paper doily for decoration and a piece of ribbon in order for the cones to be hung from our Christmas tree. The Victorians would have filled their cones with sweets, nuts and dried fruits.
Did you know that Christmas crackers were invented by Tom Smith (a Victorian)? We made our own and added a little gift and sweet. We also made paper chains using William Morris patterned paper.
We learnt that the Victorians used to make their own wrapping paper so we thought we'd try that too. We hope you like the results! Mrs Kennedy was so impressed with the results that she's going to display some of the pieces as original works of art to brighten up our stairwells.
Click here to look at some of our work.
Do you sometimes have trouble deciding which book to read? With so many to choose from, it can be a tricky decision.
To help our peers to choose a book that might appeal to them, we have each completed a book review of one of the books we read over the Christmas break.
If you need some help in deciding on your next book or find reading a chore rather than a pleasure, click here to read our reviews ... our passion for reading might help you to discover yours!
Birch Year 5/6
Welcome to Birch Class!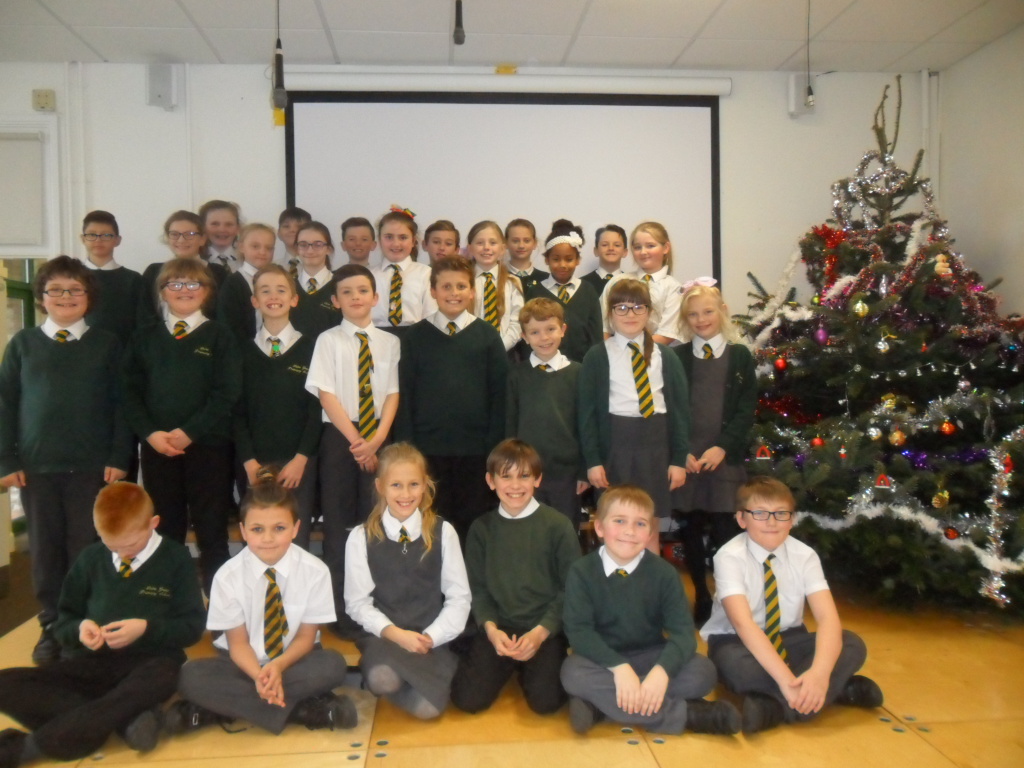 The Team:
In addition to our amazing children, the class includes Mrs Barker as teacher with support from our very experienced class TAs: Mrs Lonsdale and Mrs Sweeting.
The start and end of the Day:
8.30am - There will be a teacher on duty in the playground from 8.30am.
8.40am - The bell rings and children make their way into school so they are ready to begin learning by 8.45am.
Please ensure that your child arrives at school on time.
3.00pm - School lessons finish and children will be dismissed from the classroom.
PE Kits:
PE kits need to be in school all week and consist of a white T shirt, white shorts and trainers or plimsolls. In colder weather, black tracksuit bottoms are also allowed to be worn. Please ensure that all kit is clearly labelled so we can quickly match lost clothing to its owners! May we also remind you that children are expected to have school shoes, not trainers or boots, as part of their school uniform.
Reading:
The children will continue to bring home reading books which they have chosen as part of the Renaissance Reading programme. We would like to encourage you to listen to your child read and discuss what they have read. We suggest reading for 20 minutes, five times a week. Please use the Reading Record book to let us know that you have heard your child read and to make any relevant comments. The children will complete quizzes relating to the books they have read and it is therefore important for them to have a good understanding of the language, style and vocabulary used in the books.
Other Information:
Please click here to see our Curriculum Overview for information on this year's teaching and learning.
We encourage children to stay hydrated at school. All children have been given a new Laira Green water bottle. Replacement bottles may be purchased from the school office.
If you have any queries, concerns or questions at any time throughout the year, please feel free to ring the office to arrange to come in and see me, or pop in before school starts.
Mrs Barker